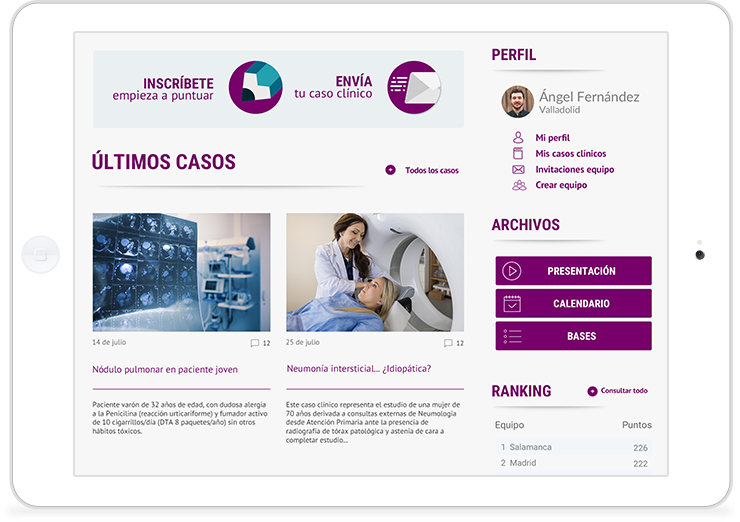 Gamified learning based on real cases. Share and compete to learn.
A gamified learning system based on the resolution of day-to-day cases. An opportunity for professionals to learn together since it offers the options to play individually and in teams.
Cooperation and competitiveness used to motivate learning.

Encourages teamwork and cooperation
Allows multidisciplinary work, debates and, ultimately, cooperative learning and the creation of formal learning communities.

Learning by doing
The work based on real cases, proposed by the participants themselves, makes the user learn by doing, which is of great practical value in the learning process.

Traceability
Control of the entire process and user activity based on a user-friendly web environment.
An attractive environment that encourages participation and goal-oriented motivation.
An innovative training solution for events and conferences, focused on motivating the updating of knowledge through competition.
An outstanding way of presenting cases with live role plays allowing competition by answering questions through mobile devices.
"Me parece que es el mejor método para que todo el personal se implique en el conocimiento de todos los protocolos que debemos conocer. Animo a la empresa a repetirlo para otros objetivos."
Participante de CUN Quiz
CLÍNICA UNIVERSIDAD DE NAVARRA
"Es una innovadora forma de aprender, se hace ameno y divertido y cumple el objetivo de aprender mas Sobre Cepsa. ¡Enhorabuena!."
Participante de Cepsa Land
Cepsa
"El resultado ha quedado genial, les ha encantado a todo el equipo. Felicidades a todos los que han hecho esto posible ¡Buen trabajo!."
Responsable Medio Ambiente
MERCEDES - BENZ VITORIA
"Quiero felicitar a todo el equipo de Wetak por el trabajo hecho: hemos cumplido los plazos y el trabajo ha sido excepcional ¡Los profesionales recomiendan la APP!."
Responsable de Neosalut
NEOSALUT
"Me parece una idea fantástica tener formación e información continuada."
Participante de Más Cerca
Sanitas
"¡Me ha encantado!. Enhorabuena por la idea. Es una forma muy amena de aprender y facilita que las personas se involucren."
Participante de CUN Quiz
CLÍNICA UNIVERSIDAD DE NAVARRA
"Una forma diferente de aprender... jugando."
Participante de Cepsa Land
Cepsa